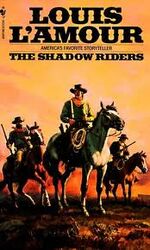 Description
Edit
Dal and Mac Traven fought on opposite sides of the Civil War, but rode home together to start rebuilding the family ranch. Instead, they discovered the chilling aftermath of a guerrilla rampage of terror. It was said no force in Texas could stop these raiders on their bloody path to Mexico. But now the raiders had the Travens' sister and Dal's girlfriend, Kate Connery, held captive. Now they had the Travens on their trail and even though it would just be Mac and Dal and their brother Jesse and Uncle Jack against thirty killers, the Travens would keep on coming. For as Kate Connery kept telling the other women hostages, "the Travens will never stop until we are free or they are dead."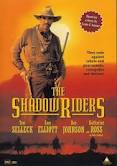 The Shadow Riders was adapted into a CBS-TV event starring:
Tom Selleck as Mac Traven
Sam Elliot as Dal Traven
Katharine Ross as Kate Connery
Ben Johnson as Uncle Jack Traven
Jeff Osterhage as Jesse Traven
These actors also starred in the two-part The Sacketts TV special.
Community content is available under
CC-BY-SA
unless otherwise noted.